The UK commitment
The UK has committed to reducing carbon emissions by 100% (based on 1990 levels) by 2050 – and businesses have a key part to play.Many are already plotting a path to net zero, by increasing energy efficiency, investing in new technologies, exploring on-site generation or purchasing renewable supply.
We are still not clear on exactly what will be expected of businesses, or by when. But while many questions remain unanswered, particularly around the decarbonisation of heat, and technologies like carbon capture and storage (CCS) need more time to develop, there are plenty of actions that businesses can take right now.
We have a growing library of net zero resources you may find helpful. We also offer a range of services to help you on your net zero journey.
Find out more about about how the UK energy market works
Your starting point - the Net Zero Calculator
You cannot plan for the future without a clear picture of the present situation. To calculate your current emission levels and find out the best ways to reduce them, you can try our Net Zero Calculator.
This is a user-friendly, interactive tool that helps businesses calculate their current emissions, forecast their emissions from now to 2050, and assess the impact of different green technologies in reducing their energy costs and environmental footprint.
Using our Net Zero Calculator is simple: just answer a few guided questions and save your progress at any time. As you input your data, your carbon and cost forecasts will be calculated and displayed.
This will give you a clear starting point for your decarbonisation journey, as well as help you in your carbon reporting.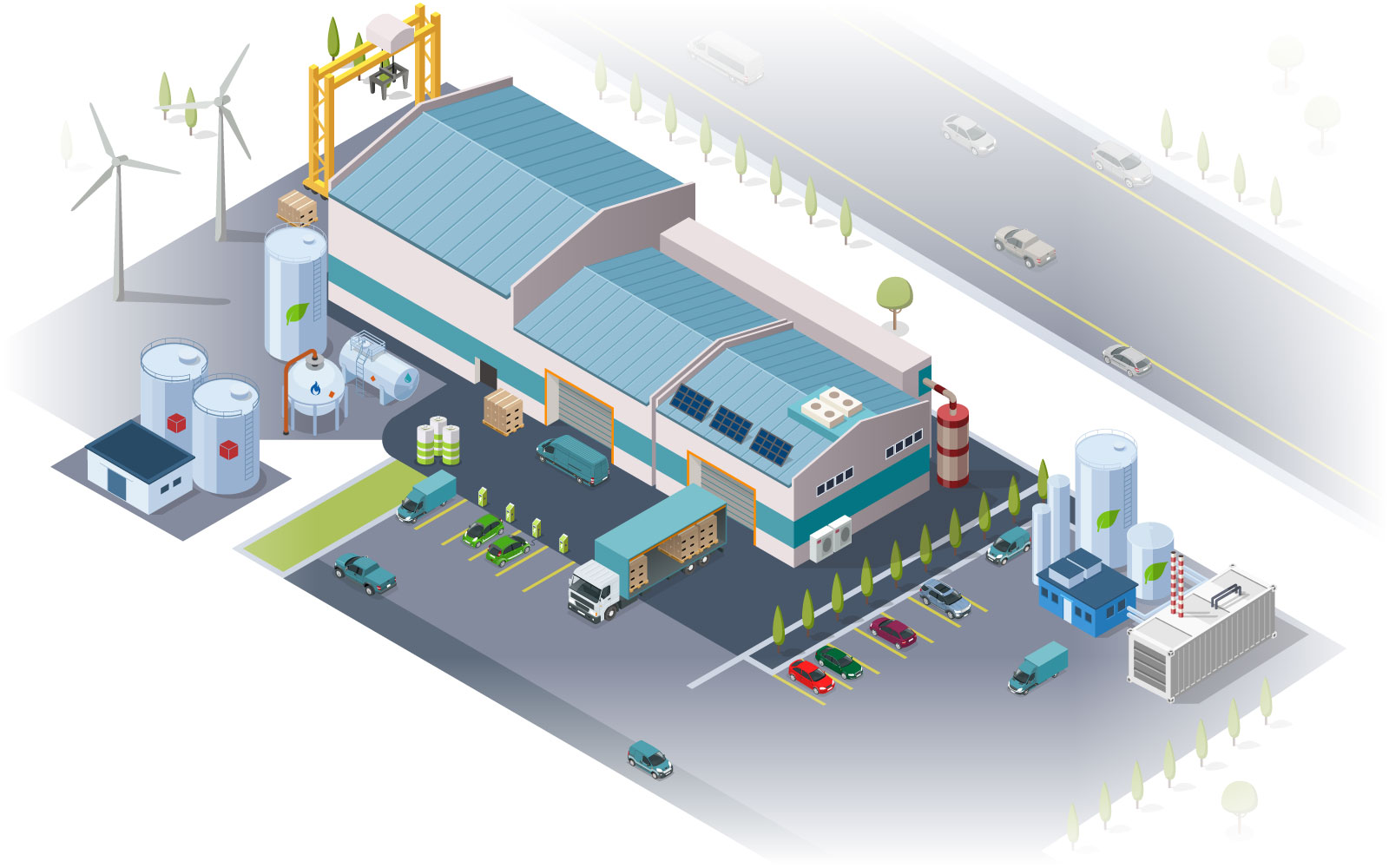 Your map for the future - Visualise, Optimise, Decarbonise
It isn't easy to plot a practical yet ambitious path to net zero, but no matter where you are on your journey, we have the tools to take you further.
There are three key elements to your energy transition: visualising how you use energy, optimising your consumption, and decarbonising with the help of the latest technologies.
Find out how we can support your businesses by watching our short video.
Plot a path through the complexities of net zero
We'll help you identify and implement the actions with maximum impact on emissions, plotting a clear path to net zero.
Decarbonise for a better future
Make the move to renewable supply and explore the benefits of onsite generation, battery storage and electric fleets, engaging your supply chain to maximise the impact of net zero activity.
Source and offset
Switch to our independently verified 100% zero carbon renewable electricity, so your business can report zero carbon emissions for GHG Scope 2 market-based reporting without additional evidence.

This is achieved by matching the power you consume with the equivalent volume of renewable power supplied to the grid.
Generate
Generate your own energy on-site to sustainably deliver your business objectives and boost self-sufficiency and resilience. Our technology agnostic approach puts your unique requirements first. Our experts will work closely with you to plan, design and deliver the best possible solution for your business.
Charge
Electrify your net zero journey with E.ON Drive. We can help you take your first steps into EV charging, find the ideal location for your charge points and even manage your EV project from design to installation. We're here to support you as you contribute to the net zero infrastructure, helping you to engage your customers and employees.
Source and offset
Build energy resilience to protect your operations and decrease your reliance on the grid with innovative energy storage solutions. Employ innovative energy storage solutions to avoid peak loads and prevent disruption caused by power losses, and use stored energy to generate new revenue streams for your business.
Get in touch
Optimise your energy use
Rethink consumption and your relationship with the grid, by optimising your use of demand side response and energy management technology.
Building energy management (BEM)
Optimise your on-site energy use with the help of our leading in-house BEM capability. We can remotely identify and eliminate waste, boost sustainability and minimise operational costs; allowing you to focus on what matters to your business.
Energy efficiency and behavioural change
Maximise the impact of targeted, low cost energy efficiency measures, deliver fast cost and carbon savings and improve staff engagement with your net zero activities. Become an Energy Conscious Organisation (EnCO), to boost talent acquisition and retention for now and the future.
Flexibility and demand side response
Generate revenue, reduce costs and participate in flexibility markets with the help of our in-house Virtual Power Plant (VPP) and award winning flexibility and demand side response services. Deliver value to your business and support grid balancing during the net zero transition.
Get in touch
Visualise the path you will take
Get complete visibility of energy use with accurate metering and intelligent analytics, empowering you to make practical plans for the path ahead.
Analyse and understand
Use accurate metering combined with insight from E.ON's Optimum energy platform to conduct audits and feasibility studies. Gain a complete understanding of your energy use and carbon footprint - empowering you to take your net zero plans forward.
Monitor and verify
As changes are implemented, depend on the E.ON Energy Management Centre to remotely steer your assets and monitor your net zero progress. We can provide you with accurate and verified intelligence on your cost and carbon reductions, to drive ongoing improvement.
Plan and baseline
Work with our in-house team of design engineers to plan your bespoke roadmap to net zero. Bring all of your data together and set your baseline with E.ON's Optimum energy management platform. We can help you gain transparency and manage insights, to enable deeper cuts to costs and carbon.
Get in touch
Which measures work for your business
Explore our low-carbon resources
As part of the E.ON Group, we can now offer access to a wider portfolio of energy management and emissions-reducing products and solutions. From improving your energy efficiency to helping you make the most of energy tax exemptions, these solutions will allow you to cut costs and future-proof your business as the UK moves towards net zero goals.
Information and resources
Stay up to date with the all the latest business energy news here.