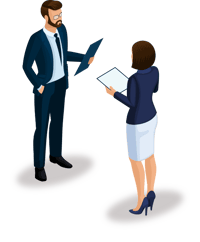 My Account
What would you like to do?
We want to make it as easy as possible for you to manage your business energy accounts.
If the information you're looking for isn't included below, please contact our business customer services team. We'll be happy to help.
Dashboard, our digital platform
Manage your account with Dashboard, designed to give our customers better round-the-clock visibility and control of their accounts.
It's possible to use Dashboard to:
view a comprehensive summary of your accounts
contact our customer services team
view and download your contracts (coming soon)
submit meter readings
download consumption data
make payments
We're in the process of rolling Dashboard out to all of our customers.
Registered customers can send us their meter readings online through My Account Online and the new digital platform Dashboard. For customers who don't have access to either of these, it's also possible to send your meter reading using our online form.
Submit a meter reading
Risk Navigator
Ideal for businesses managing complex energy strategies in a fast-changing marketplace, Risk Navigator provides access to the latest market intelligence and analysis. If you buy via a flexible contract, you will also be able to access bespoke reports on your own energy-transacting portfolio.
Intelligent Analytics
Ideal for businesses with half-hourly meters, Intelligent Analytics is an intuitive, easy-to-use energy management system designed to help break down your data for detailed consumption and carbon analysis, putting you on course to mitigate rising costs.
My Account Online (existing users only)
My Account Online will no longer be available after 30th September 2022
If you're already an npower Business Solutions customer who has access to My Account Online, it's possible to use the My Account Online online portal to:
view and download your invoices
submit meter readings
create and download energy reports
Your account data from the previous 18 months is available on this portal.
Login to My Account Online
Login to View Bill (E.ON existing users only)
Log in to quickly view your historical E.ON invoices online. Please note this service will be deactivated by 30th September 2022
Login to view invoice
Update my Marketing Preferences
You can keep your marketing preferences up to date by visiting our preference centre, please enter your email address below to receive a link:
Buying energy for your home or small business?
If you were with nPower to buy energy for your home or small business, you're not quite in the right place. Your account has been moved over to E.ON Next and you can find everything you need on the E.ON Next website.
Get in touch
Want to speak to a member of our team? We're available Monday-Friday 9am-5pm excluding public holidays.